The Grumman F-14 Tomcat is an American supersonic, twin-engine, two-seat, twin-tail, variable-sweep wing fighter aircraft. The Tomcat was developed for the United States Navy's Naval Fighter Experimental (VFX) program after the collapse of the F-111B project. The F-14 was the first of the American Teen Series fighters, which were designed incorporating air combat experience against MiG fighters during the Vietnam War.
​
The F-14 first flew on 21 December 1970 and made its first deployment in 1974 with the U.S. Navy aboard USS Enterprise (CVN-65), replacing the McDonnell Douglas F-4 Phantom II. The F-14 served as the U.S. Navy's primary maritime air superiority fighter, fleet defense interceptor, and tactical aerial reconnaissance platform into the 2000s. The Low Altitude Navigation and Targeting Infrared for Night (LANTIRN) pod system was added in the 1990s and the Tomcat began performing precision ground-attack missions.
​
The Tomcat was retired by U.S. Navy on 22 September 2006, having been replaced by the Boeing Hornet family of aircraft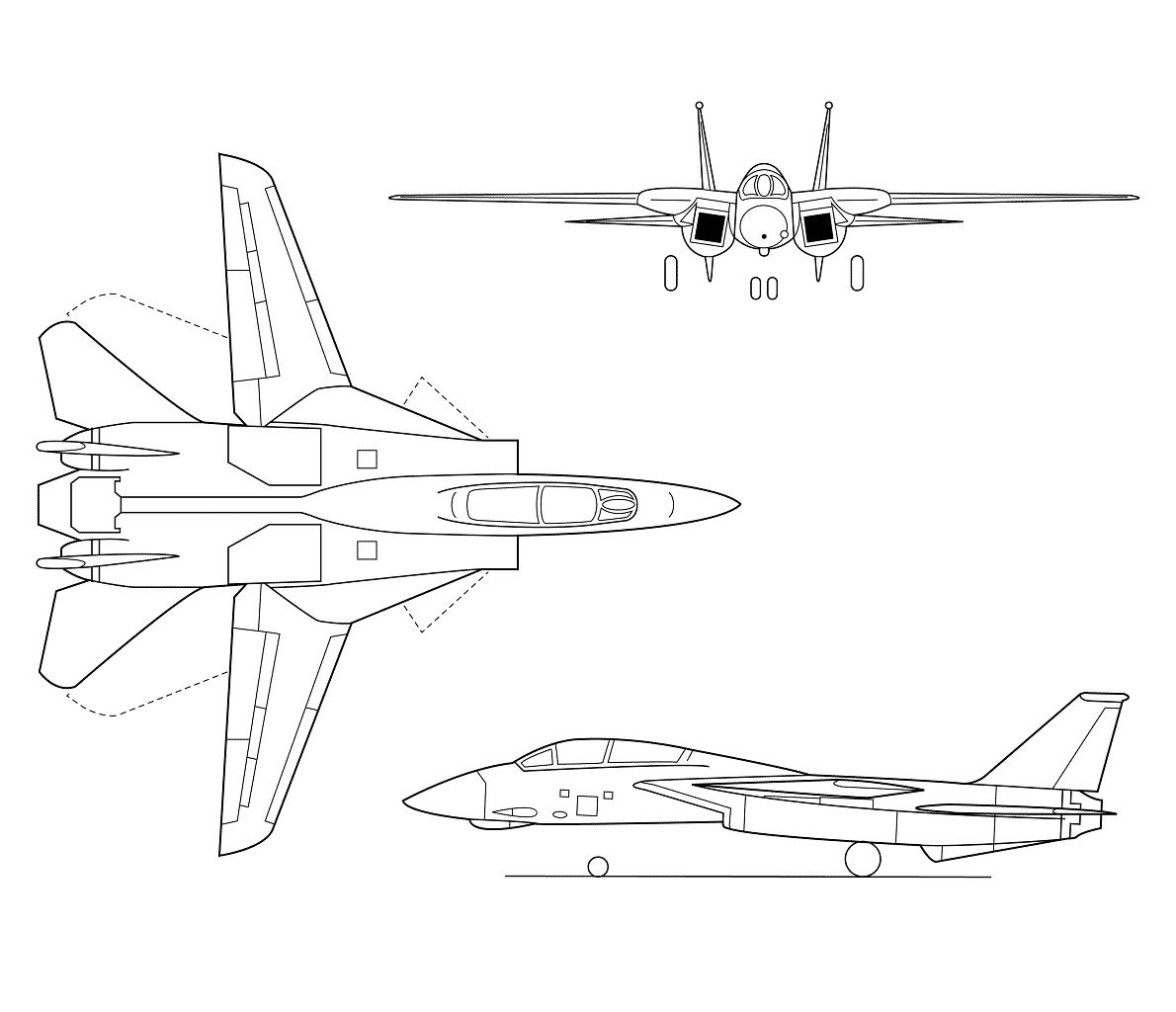 CREW: 2 (Pilot, Radar Intercept Officer (RIO))
SIZE: LENGTH 62 ft 9 in (19.13 m),
WINGSPAN (UN-SWEPT) 64 ft 1.5 in (19.545 m),
WINGSPAN (SWEPT) 38 ft 2.5 in (11.646 m),
HEIGHT 16 ft (4.9 m),
EMPTY WEIGHT 43,735 lb (19,838 kg)
MAX TAKE OFF WEIGHT: 74,350 lb (33,725 kg)
SPEED: MAXIMUM MACH 2.34, CRUISE - Mach 0.72 (572 MPH)
SERVICE CEILING: 53, 000 ft (16,000 m)
RANGE: 1,600 nautical miles (3,000 km)
Armament:
​
Guns: 1× 20 mm (0.787 in) M61A1 Vulcan 6-barreled Gatling cannon, with 675 rounds
Hardpoints: 10 total: 6× under-fuselage, 2× under nacelles and 2× on wing gloves with a capacity of 14,500 lb (6,600 kg) of ordnance and fuel tanks,

Rockets:
7x LAU-10 rocket pods (for a total of 28 rockets)
Others:
Tactical Airborne Reconnaissance Pod System (TARPS)
LANTIRN Targeting System (LTS) pod (AN/AAQ-14)
ADM-141 TALD - Tactical Air Launch Decoy
2× 267 US gal (1,010 l; 222 imp gal) drop tanks for extended range/loitering time
Missiles:
Air-to-air missiles: AIM-54 Phoenix, AIM-7 Sparrow, AIM-9 Sidewinder
Loading configurations:
2× AIM-9 + 6× AIM-54 (Rarely used due to weight stress on airframe)
2× AIM-9 + 2× AIM-54 + 3× AIM-7 (Most common load during Cold War era)
2× AIM-9 + 4× AIM-54 + 2× AIM-7
2× AIM-9 + 6× AIM-7
4× AIM-9 + 4× AIM-54
4× AIM-9 + 4× AIM-7
​
Bombs:
JDAM precision-guided munition (PGMs)
Paveway series of laser-guided bombs
Mk 80 series of unguided iron bombs
Mk 20 Rockeye II
Our F-14 example - 161134 (construction number 361) has the following history:
​
1985 - Assigned to VF-103 Sluggers - Modex number 214
1986 - Assigned to VF-101 GrimReapers - Modex 101
1987 - Assigned to VF-84 Jolly Rogers - Modex 211
1989 - Assigned to VF-11 Red Rippers - Modex 105
1990 - Assigned to VF-101 GrimReapers - Modex - Unknown
1994 - Assigned to VF-41 Black Aces - Modex 114
1998 - Received by Valiant Air Command for Display
​
August 1985 - Provided TARPS intelligence imagery for Egyptian airliner high-jacking -
Flying under callsign Clubleaf 214 (VF-103 Sluggers) below is an example of an image taken during that flight:
​
Photo credit: Larry Neal, SRA Chris A. Putnam, PH1 William A. Shayka and Lt. Cmdr. Dave Parsons / U.S. Navy and U.S. Air Force
"This aircraft on loan from the National Naval Aviation Museum on behalf of the Navy History and Heritage Command"